Customized Busbar Support Insulator 253mm Bus Bar Insulators Low Voltage Clamp Factory
253mm Bus Bar Insulators Low Voltage Clamp Factory
Model:

253

Voltage:

660V-7200V

Length

253mm

Current

125A-4000A

Width

40mm

Height:

38mm

Material:

SMC

MOQ:

2000pcs

Certificate:

CE,REACH,ELV,SGS
253mm clamp is made of SMC to support 6mm-8mm busbar.Current from 125A-4000A
253 Busbar Clamp
253 Busbar support insulator is made of SMC to support 6mm-8mm busbar,double three phase.Current from 125A-4000A.
CE,SGS,ROHS certificate for busbar support.
Material / Materiale:

-SMC (Sheet Moulding Compound)
Colour / Colore :Black/Customized
Working Temperature / Temperatura d'esercizio : 40℃~140℃
Flammability / Autoestinguenza:V0
All dimensions are in mm /Tutte le quote sono in mm
Please confirm screw when order busbar insulator support.Accepting OEM.
Length:253mm
Width:40mm
Height:38mm
Phase:3phase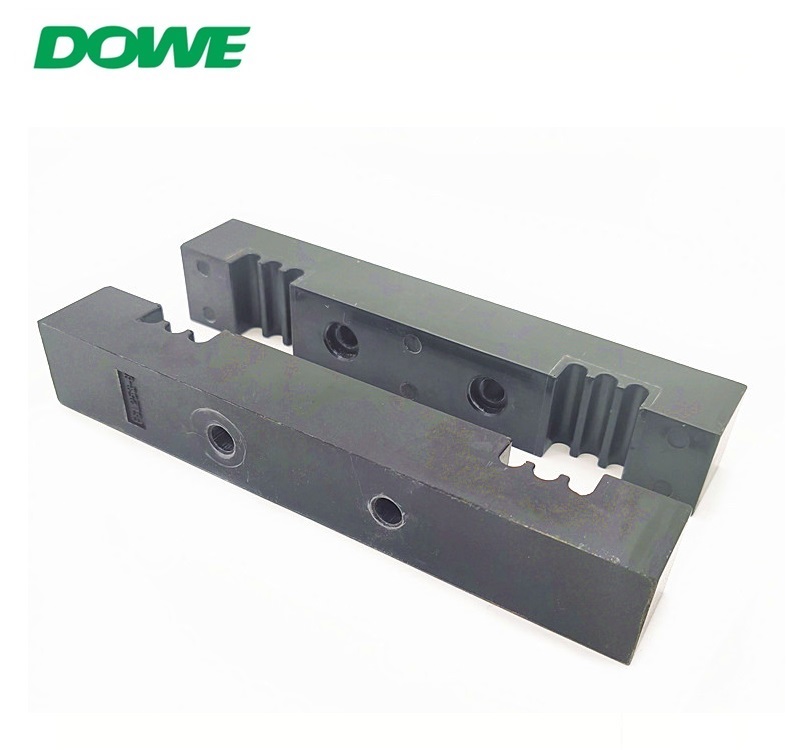 Application:
Low voltage busbar insulator are mainly used in low voltage power distribution cabinets, frequency converters, switchgear and other products.
By connecting the busbar support copper, it plays a role of fixing, supporting and insulating.
Busbar support insulator has excellent insulation performance, high strength, high temperature resistance, reliable safety performance, and is a good choice for fixed busbar of low-voltage power distribution cabinets.
OEM service:
1、Color: support red ,brown or other customsized
2、Insert: support brass,steel or other
3、Model: support OEM model